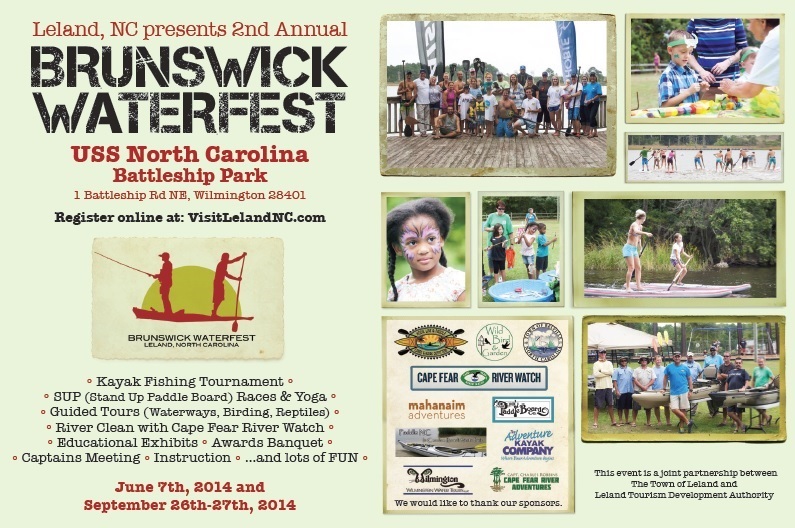 Brunswick WaterFest Announces $2500 Cash Prizes for SUP Races
LELAND – Brunswick Waterfest is pleased to announce that this year the winners of both the men's and women's SUP races will receive a $750 cash prize. Cash prizes of $400 will be awarded to 2nd place and $100 will be awarded to 1st place. Races are June 7th during the Brunswick Waterfest events at Battleship Park.
Glenda Browning, Director of the Leland TDA said, "We are so excited to announce these prizes for both the men and women. We are hoping that it will give more paddlers in our region an extra incentive to participate in the races and add even more excitement to the Waterfest."
The races will start and finish in front of the historic North Carolina Battleship. After a water start, paddlers will have to navigate the strategically placed buoys at top speeds, executing buoy turns while watching out for fellow racers. This challenging and exciting race can be anyone's win, where speed alone will not conquer, but agility and technique will play a vital role. The race is sanctioned by the World Paddle Association.
Browning added, "Our SUP races will appeal to paddlers of all levels. This style of race is unique to the area, and not a traditional course. You don't need to be an expert paddler to win the race and the prizes."
In addition to the SUP races, there will be a variety of activities for people of all ages to enjoy. The 2nd annual Brunswick WaterFest will feature a day-long family-oriented festival, stand-up paddleboard races, SUP instruction, SUP yoga and SUP river tours, kayak instruction and guided tours, Reel Paddling Film Festival World Tour, wildlife tours, educational activities, and the family movie, Surfs Up, at sunset.
.This year's event will be held at the USS North Carolina Battleship Park (1 Battleship Rd. NE) and will highlight the natural beauty of northern Brunswick County and the surrounding region.
For more information or to register for tours and activities, visit www.brunswickwaterfest.com.
CONTACT: Glenda Browning